Peanut Butter Pie is an easy, nearly no bake, dizzyingly delicious dessert that will make you the hero of Thanksgiving and every occasion!  This recipe is 100% make ahead friendly (tastes even better the next day) made with homemade whipped cream (zero Cool Whip) and crowd-pleasing toffee bits!  You'll be awed at the filling that strikes the adept balance between pillowy lightness and decadent richness, with just the right kiss of sweetness.
Watch How to Make Peanut Butter Pie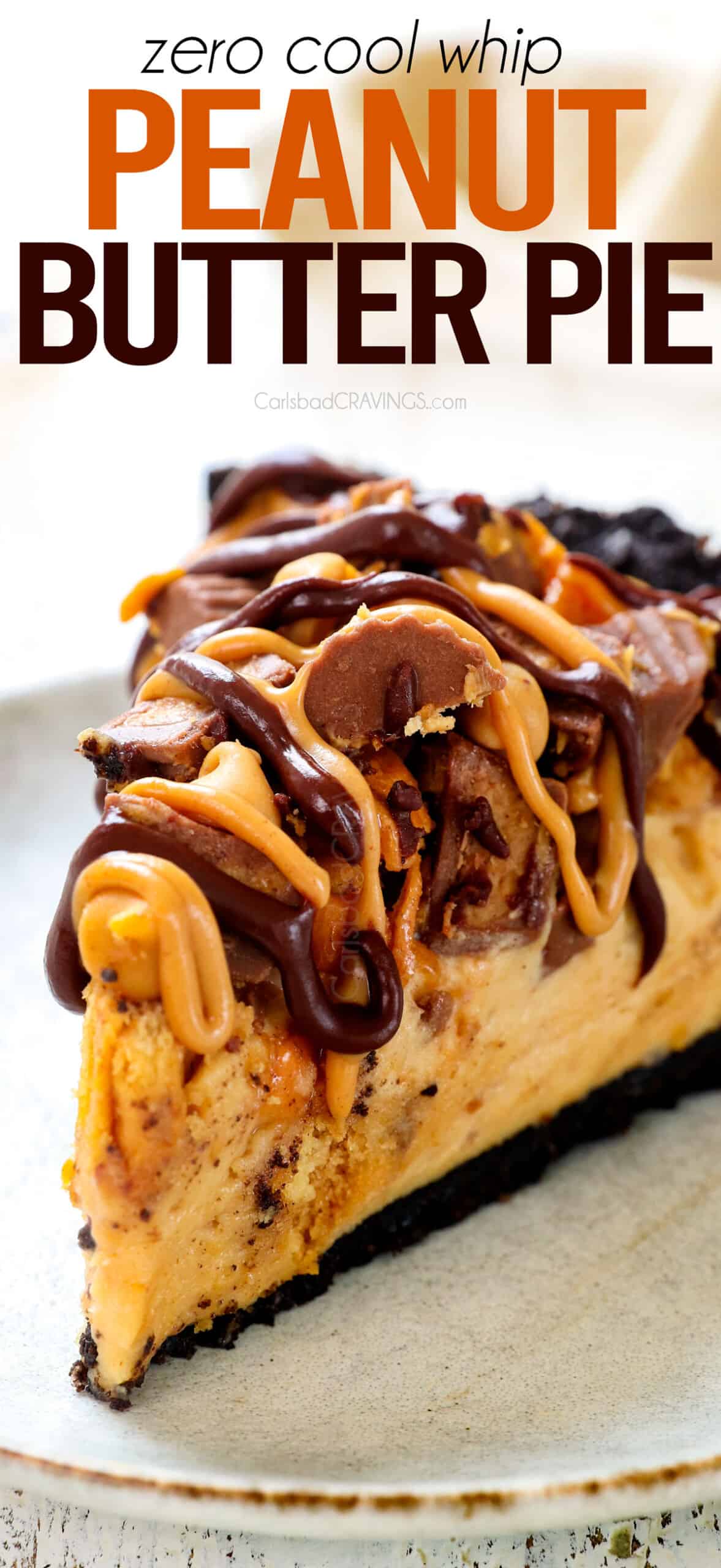 You will love this Easy Peanut Butter Pie Recipe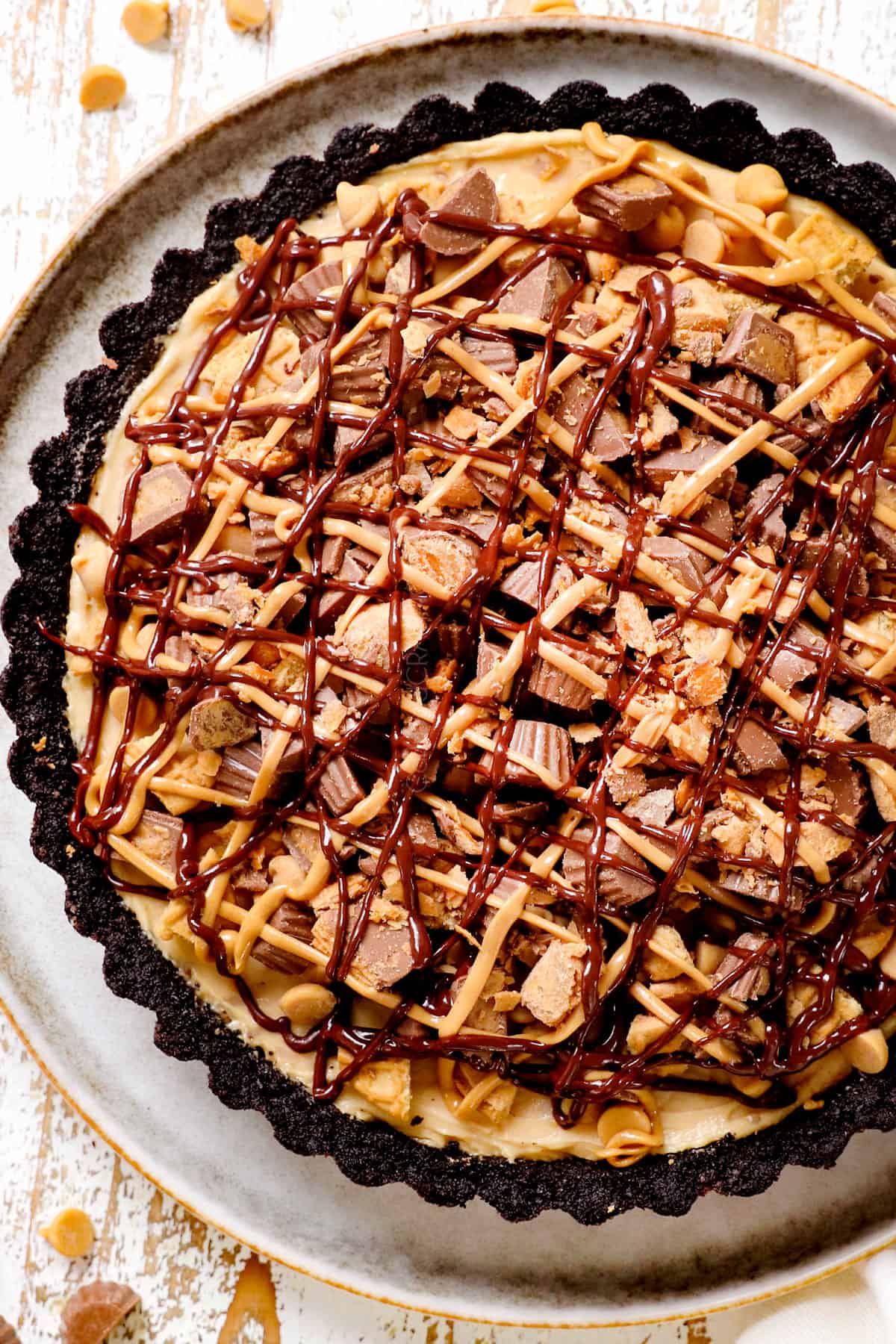 Peanut Butter Pie Ingredients
The ingredients for this almost no bake peanut butter pie can be divided into three parts: 1) the crust, 2) the filling, and 3) the topping. Let's take a closer look at what you'll need for each (full recipe with measurements in the printable recipe card at the bottom of the post):
FOR THE OREO CRUST: 
For the Peanut Butter Pie filling: 
FOR THE Topping: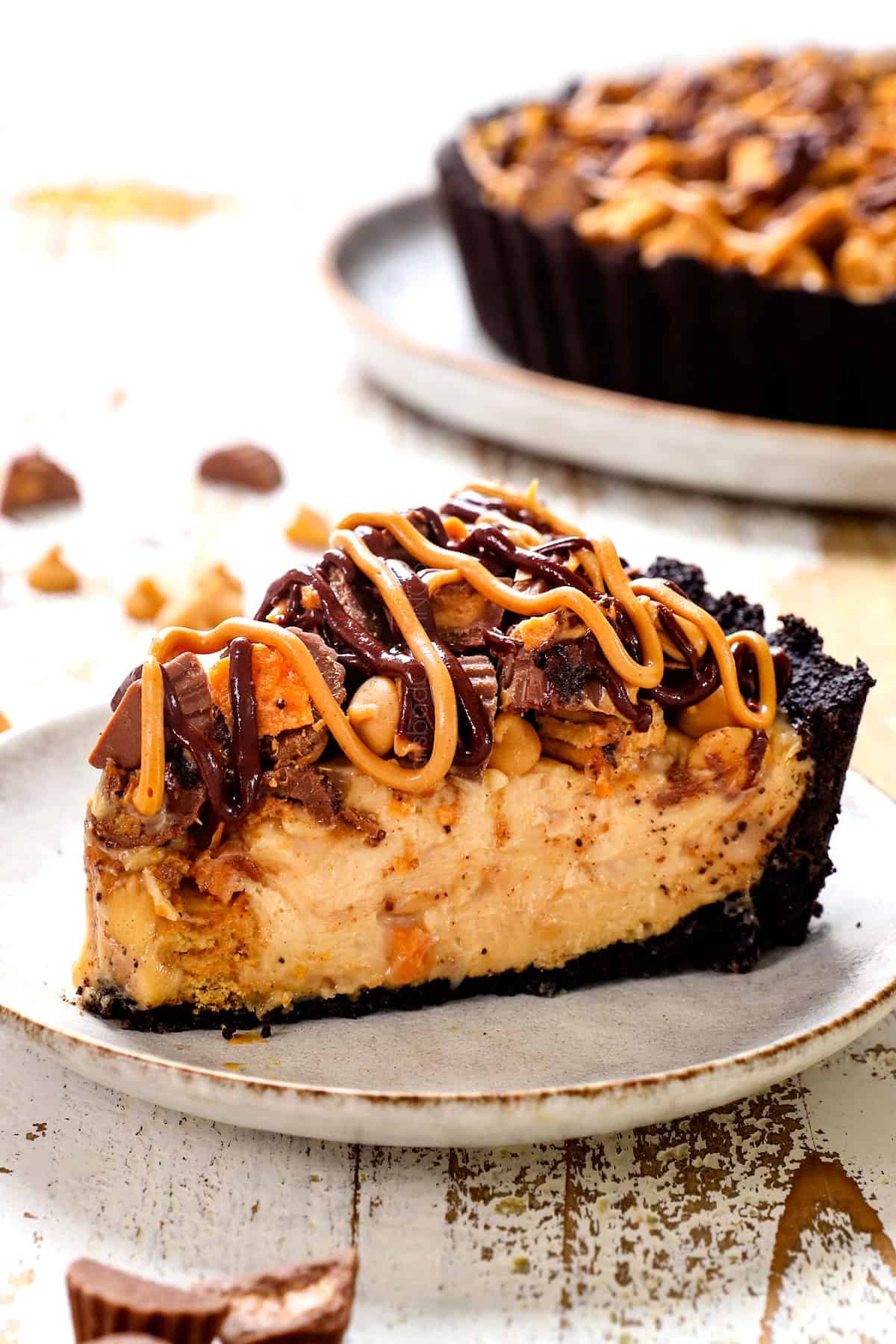 no bake peanut butter pie variations
How to make Peanut Butter Pie 
This peanut butter pie recipe is comprised of four main parts:
1. crust
2. stabilized whipped cream
3. peanut butter filling
4. the topping
Each element is quick and easy to make so please don't be overwhelmed. Let's take a closer look with step-by-step photos or watch the video in the recipe card (full instructions with measurements in the recipe card at the bottom of the post):
Step 1: How to Make Oreo Crust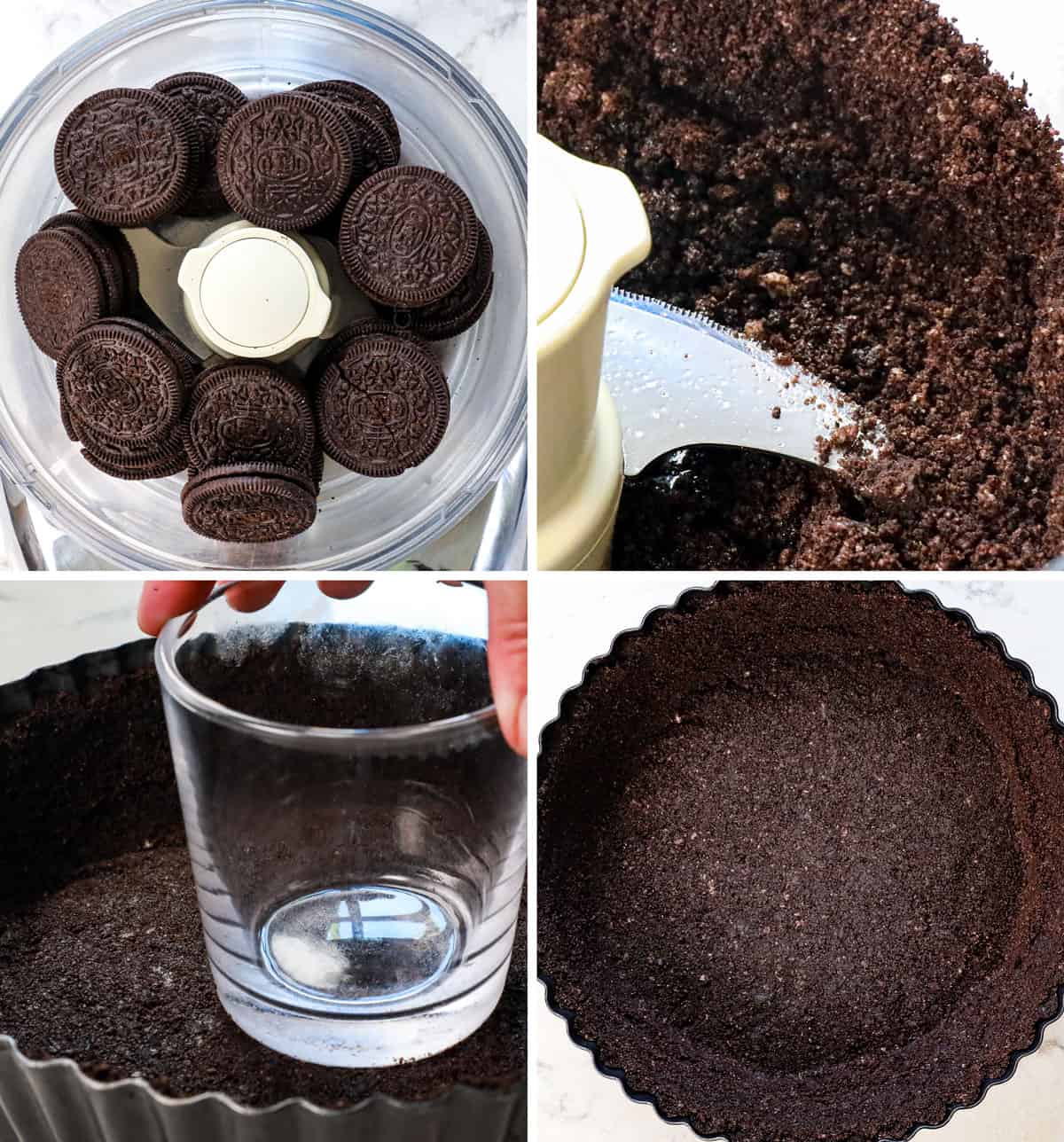 Step 3:  How to MaKe stabilized Whipped Cream
Step 2: How to make peanut butter pie filling
Step 4:  Chill
Step 5:  Add Topping
Almost No Bake Peanut Butter Pie Tips
Follow these tips for the best peanut butter pie recipe every time:
How to serve Chocolate Peanut Butter Pie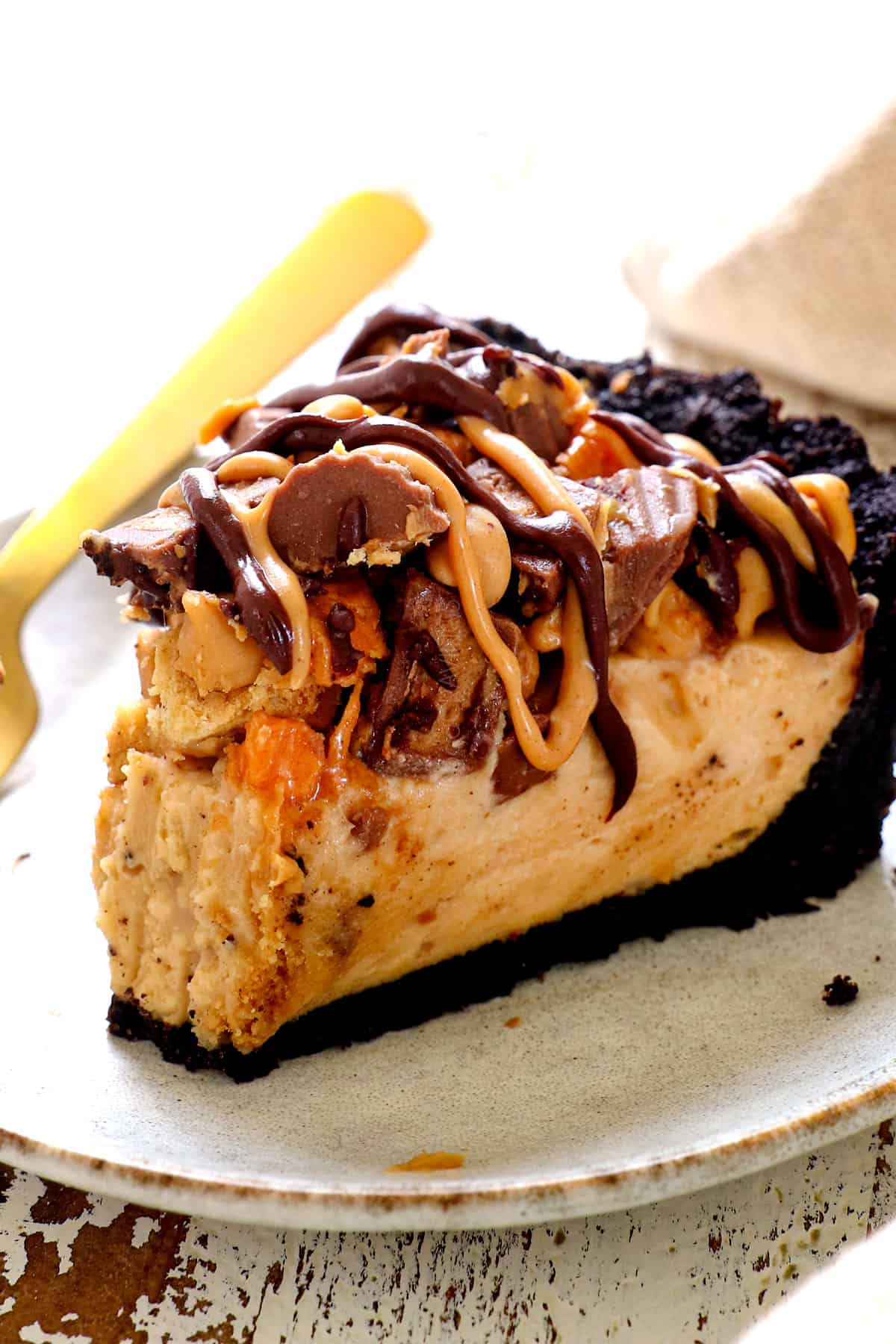 WANT TO TRY THIS RECIPE?
PIN IT to your recipe BOARD TO SAVE FOR LATER!
FIND ME ON PINTEREST FOR MORE GREAT RECIPES!  I AM ALWAYS PINNING :)!
©Carlsbad Cravings by CarlsbadCravings.com
Save This Recipe To Your Recipe Box
You can now create an account on our site and save your favorite recipes all in one place!
CRUST
24

Oreos with filling

5

tablespoons

unsalted butter,

melted
FILLING
1

teaspoon

unflavored gelatin

(see notes)

1 1/2

tablespoons

water

1

cup

heavy cream

1

teaspoon

vanilla extract

8

ounces

block cream cheese

(very soft)

1

cup

powdered sugar

3/4

cup

creamy conventional peanut butter

(like Skippy or Jif)

1/2

cup

toffee bits

(like Heath's Bits of Brickle)
Topping
peanut butter for drizzling

(slightly warmed for easy drizzling)

chocolate sauce for drizzling

(see Notes for DIY)

favorite PB candy: more toffee bits, Nutter Butters, Mini Reese's Pieces, Butterfingers, PB Chips, etc.

(pick your favs!)
STABILIZED WHIPPED CREAM
Add the unflavored gelatin to a microwave safe bowl then pour the cold water over top; let stand for 5 minutes. Microwave for 10 seconds. Stir the mixture, then set aside. Immediately proceed with the next step.

Add 1 cup heavy cream and vanilla extract to a large mixing bowl. Whip using an electric hand mixer until soft peaks form (the whipped cream folds over when you lift the beaters out of the bowl).

Turn the mixer to low and slowly pour in the gelatin mixture. Mix until well combined then increase the speed to medium and continue mixing until stiff peaks form (the whipped cream stands straight up and doesn't fold over when you lift the beaters out of the bowl); set aside.
Toppings
Add toppings (chopped/crushed candy and drizzles) to the peanut butter pie at any point after it's set; i.e.; add after five hours and return to the refrigerator, or add and serve immediately. If the pie has been frozen, let it sit at room temperature for 20 minutes or so after adding the toppings to soften up a bit before serving (slice while still firm), or return to the fridge.
SLICE
Use a hot knife to slice the pie for the cleanest slices. You can either run the knife under hot water or fill a large glass with hot water, then dip the knife in the hot water before each cut. Wipe the knife clean with a paper towel after each cut, then repeat. I like the pie best after the slices have a chance to soften for 5-10 minutes.
DIY Chocolate Drizzle
4 ounces semi-sweet baking chocolate (may sub ½ cup quality chocolate chips like Ghirardelli or Guittard) 
2 tablespoons corn syrup 
1 tablespoon vegetable oil
INSTRUCTIONS
Add the ingredients to microwavable safe bowl. Microwave uncovered on Medium (50%) for 1 to 2 minutes, whisking halfway through, or until chocolate can be whisked smooth. Add to a small bag, snip the corner and drizzle. 
Do I have to add corn syrup? C
Tips and Tricks
Use conventional peanut butter:

  Peanut butter that isn't homogenized can sometimes cause texture and emulsion issues like your filling separating due to their high ratio of oil.  Additionally, I find that some natural peanut butters have a coarse texture that isn't ideal for achieving that mousse-like pie filling.

Why gelatin? Whipping the cream with unflavored gelatin then folding it in with the other beaten ingredients gives this pie a light, creamy, texture with structure without any Cool Whip. The gelatin ensures your pie doesn't become soft and weepy straight out of the refrigerator.  Unflavored gelatin is a common baking ingredient and can be found next to the packages of Jell-O and pudding at your grocery store.  
Gluten free peanut butter pie:

Use gluten free Oreos or substitute with gluten free chocolate cookies or sandwich cookies, or even gluten free graham crackers.  If your substitution does not contain a filling, add 2 tablespoons extra butter to the crust. Only use gluten free candy for the topping. Butterfingers are gluten free and all of Reese's products are listed as gluten-free on the Hershey's website, except

seasonal-shaped Reese's

.

Vegetarian peanut butter pie:

Use 1 teaspoon agar-agar instead of gelatin.
HOW TO SERVE AND STORE
If traveling: Freeze the pie for at least an hour and let it soften for 20-30 minutes (more or less as needed) at room temperature before serving (slice while still firm).
How to store:

Tent with foil or use a cake caddy. Store in the refrigerator for up to 4 days or freeze for up to 2 months.  

To freeze: Wrap the pie in two layer of plastic wrap, followed by foil. Store for up to 2 months. Let the pie sit at room temperature for 20 minutes or so before serving to soften up a bit.
Did You Make This Recipe?
Tag @CarlsbadCravings and Use #CarlsbadCravngs
Leave a Review, I Always Love Hearing From You!